Workshop Testimonials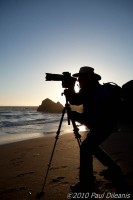 " Great. Great. Great. Paul Dileanis does an excellent job making everyone feel welcome and is very approachable and open to questions. I get the impression he's hiked and photographed every inch of this area several times before. Very knowledgeable. Highly recommended for any level of experience. "— Steve Minden on Jun 27, 2010.
" Got me motivated to get out there and start shooting more. "— Brett on Apr 20, 2010.
"Paul, thanks for all you advice and guidance today. My photography and vision are definitely improving through your workshops. See you again soon, I hope!" Kurt – January 2010
"I really enjoyed your DSLR class last week. It was exactly what I needed to move forward and I've been taking lots of photos — one or two that might actually be decent pictures. So much to learn." Christine – February 2010
" Lots of good information to bring your camera skills up to the next level. "— suezq on Aug 26, 2009.
" Advice from a photo professional. Insights into RAW and working with RAW. " — Grace Yang on Jul 29, 2009.
" Very good, Paul is a good presenter and very patient answering questions. " Brett
"Paul is very helpful and ensures there are a variety of subjects to photograph, is always willing to show you how to utilize different functions of your camera, and is able to give individual attention even with a large group. It was awesome, dood! " Kelly
" It was a good introduction to RAW and working with RAW. I got a lot of information through the workshop. The instructor was obviously very experienced as a photographer. " Grace
"Paul clearly spent time planning this workshop. I greatly appreciated the small size, which allowed plenty of one-on-one time for each participant. The two-day extended format also removed the feeling of needing to rush from site to site or shot to shot, which enabled us all to spend some time at each location allowing our vision for that location's shot(s) to evolve and, pardon the pun, develop. " Kurt W.
" Serious teaching with multiple excursions to unbelievable locations. Paul gives one to one attention and answers all questions. Critique is gentle with practical suggestions I had am great time and learned a lot. " Clyde H.
"Thanks for the workshop today, you are awesome! Can't wait to join you on another workshop, thanks again." From Joy on February 26, 2012