Instructor Biography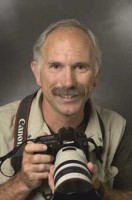 Photography today is a demanding field requiring an artistic eye, a solid understanding of photographic technique and the flexibility to adapt to the challenges of digital photography. My experience and involvement in the photographic industry have provided me with the professional skills needed to meet the most demanding photographic assignments.
Artist Statement:
In my nature photography I try to capture those more profound experiences that have a deeper impact and leave a lasting impression. I want my images to convey to the viewer the same sense of wonder I feel when I am creating them. In order to bring these images to you I am continually challenging myself to merge photography and art to create unique images that capture the beauty of the natural world.
Silicon Valley Images is dedicated to providing quality instruction in a safe environment. In addition to acquiring proper permits, insurance and permissions our instructor(s) are trained in CPR and Wilderness First Aid.
In order to preserve the natural beauty of our parks and scenic areas instructors are also certified by and adhere to the Leave No Trace principles as outlined by the The Leave No Trace Center for Outdoor Ethics (www.lnt.org)
Teaching experience:
In 2006 I began teaching photography for the REI Outdoor Schools. In addition to my duties as a photography instructor I also trained new employees in outdoor equipment knowledge and sales technique. During this time I was also a member of the curriculum development team at REI to set nationwide standards for REI photography classes.
I left REI in 2008 and began teaching digital photography workshops through my photography business, Silicon Valley Images.
In 2009 I began an affiliation with San Jose Camera and Video where I currently offer beginning and advanced photography classes.
Today I continue to offer classes through San Jose Camera and Video as well as a program of In Field photography workshops and guided photo tours through Silicon Valley Images.
Besides teaching private photography classes, I am also putting my experience to work helping define curriculums to train future photographers and videographers as a photography advisor to the Mission Valley Regional Occupation Program.
Photography Experience:
1974 – 1978: Photographer and Diver with the U.S. Navy's Pacific Fleet Combat Camera Group. Highlights of my time in the Navy include being involved in the production of training films for the Navy SEAL Teams and a documentary about U.S. Navy deep sea research and rescue submarines.
1979-1983: Staff photographer and contributing writer for Ocean Sports International Magazine, a magazine devoted to surfing and the ocean lifestyle. Assignments included producing photography for advertisers and to accompany articles about surfing, sailing and diving. During this time I traveled to France and wrote an article about surfing in Biarritz (Biarritz: The French Connection, 1984 Vol. II No. II).
1985-1995: Civilian Scientific and Technical photographer for the Naval Ocean Systems Center (NOSC). As a technical and underwater photographer I documented Navy research, marine mammal and engineering projects. I also had the opportunity to be involved again in projects with the Navy SEAL teams.
In 1995 I started Silicon Valley Images specializing in commercial, architectural and aerial photography.
My images have been published in magazines  and motion picture film I have shot has appeared in two PBS series, "Nova" and "The New Explorers".