10 Reasons to attend a Photography Workshop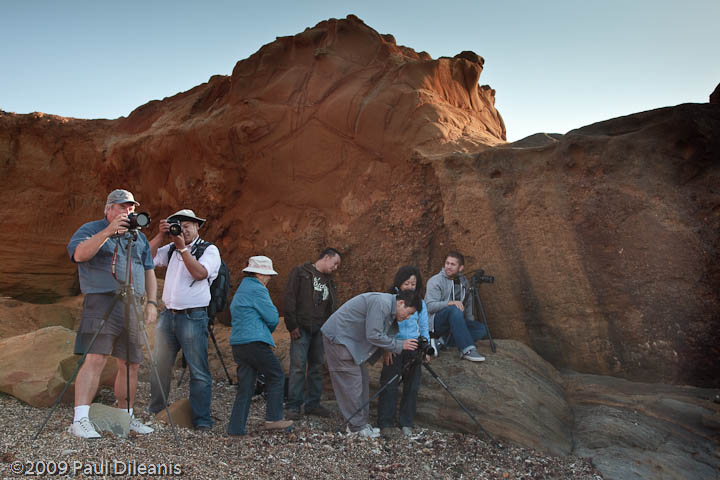 1. Participating in a photography workshop will renew your passion for photography.
Picking up your camera and exploring new photographic opportunities will motivate and inspire you to grow as a photographer.
2. The opportunity to photograph the most scenic locations locally and abroad
A guided photo tour or workshop will take you safely and directly to the best locations. Expert knowledge of photographing the site and finding new ones will save you valuable leg-work and time, enabling you to concentrate on your own photography with all the preparation done for you. Choose a workshop with experienced instructors that specialize in the area you want to visit.
3. Share an experience with like minded people who share your passion
Photographing new and extraordinary locations alongside others who share your interest is without question a valuable learning experience. Sharing knowledge and techniques with others is a very inspirational environment which can enable you to reach a new level of photographic revelation on your journey to becoming a better photographer.
4. Learn from an expert while developing your own style
A good workshop leader will ensure that every participant gets the level of support they need and will be on hand to offer help as needed. An experienced instructor will help you master technical skills while providing ample time for participants to explore their own vision. With expert guidance your creative insight becomes more acute allowing you to develop your own personal style.
5. The best locations at the best times
An experienced photographer has done his research to determine the best season, the best time of day and the right light for a particular location. He can teach you how to read the landscape in order to get the best image possible. Going with an expert who knows the territory will greatly enhance your photographic experience.
6. Technical knowledge – learning correct exposure, how to use filters, etc.
Today's digital cameras can puzzle even advanced photographers. Knowing what function does what takes time to learn. A photography workshop is the perfect opportunity to practice and develop your skills as a photographer. Under the supervision of a knowledgeable professional and with the support of peers you will develop the proficiency required to create striking images. Participating in a workshop is an opportunity to learn about correct exposure and using filters. In a well run workshop you will be encouraged to create the composition 'in camera'. This is the essence of photography.
7. The opportunity to practice what you learn
In a workshop lessons can be given on location. This enables you to learn technical skills and theory 'in the field' and put your training to use immediately. The more you practice your new skills, the longer they will stay with you. The goal is to have the process of making a photograph become second nature which will free you to pursue artistic vision.
8. Develop photographic vision
Photography is all about seeing. Learning to identify the qualities of a potential image takes time and practice. Details such as balance, color and design all contribute to the aesthetic qualities of a photograph. Having an experienced photographer as an instructor will help you to make sense of the relationships between the elements in your photograph resulting in a cohesive composition that works.
9. Constructive critique
Feedback from a knowledgeable photographer and from peers can provide rewarding insights into how others perceive your work and how you can improve your photography. Workshop environments should not be a one way street. Interaction between individuals, the group and the instructor are all valuable learning experiences.
10. Camaraderie, friendship and FUN!
Photography is an activity often associated with independent initiative, but the rewards to be gained from participating in a workshop are many. First, there is the energy and dynamics created when you bring together a group of like minded individuals with a common goal. Second there are the many opportunities to share knowledge and experience. And last there is the camaraderie which can develop new friendships.